Drawing Magazine Fall 2016
I am so grateful to be included in Drawing Magazine's Fall 2016 issue in the New and Notable section!
---
Museum curator goes on Miami art safari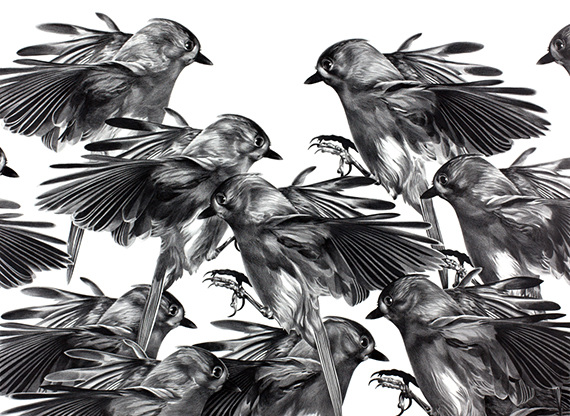 Minton's hunt for wild animals amid the wildness of the contemporary art world is an adventure in and of itself...

... Minton discovered a lot of interesting artists at Art Basel Miami Beach, three of whose works were purchased at the inaugural Blacktail Gala: A kaleidoscopic video piece by Leslie Thornton, a pixelated wooden finch by Shawn Smith and a meticulously drawn meditation on flight by Christina Empedocles.
---
Jack Fischer Gallery at Art Market San Francisco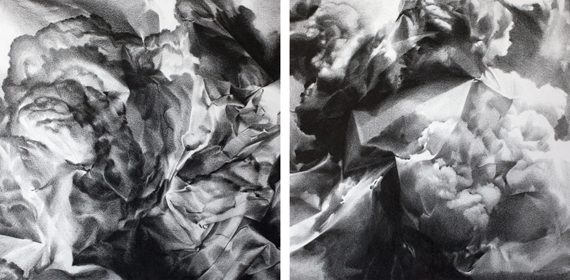 I'll have several pieces on display with the Jack Fischer Gallery at Art Market San Francisco. This year's fair is certain to be spectacle, so I hope you can stop by!
Jack Fischer Gallery | Booth 615
Art Market San Francisco: Fort Mason Festival Pavilion May 15-18th, 2014
---
SPACE // SQUARED Curated by Sven Davis at White Walls May 10 - June 7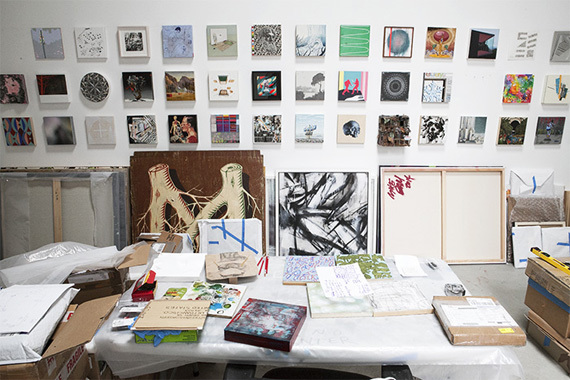 There is an impressive selection of artists in this show. Please come by White Walls to check it out! May 10 - June 7, 2014 White Walls 886 Geary Street (between Hyde and Larkin) San Francisco, CA 94109 Phone: (415) 931-1500
---
Christina Empedocles's Drawings Resurrect Outmoded Ideals. By Roxanne Goldberg

San Francisco-based artist Christina Empedocles uses wax pencil on paper to capture details in crumpled fabrics and papers, evoking a sense of nostalgia the simple, carefree life of past decades. The convincingly lifelike drawings appear as photographs and play with the viewer's yearning to smooth out the ripples and even out the wrinkles. Magicfeatures the faces of two doll-like young women and appears as a 1950s advertisement for "Perma-lift Brassieres." The slogan "The lift that never lets you down," is ironic considering the advertisement looks trampled and forgotten. Similarly, Nova 400 shows posh, smiling mid-century men and women laughing, kissing and driving in a brand new Chevy. The crumpled bulletin reminds the viewer this previous time of carefree joy is long gone.Other recent works like Mélange and Mockingbirds convey a message of strangled nature, as the drawings of birds perched on branches are crushed so that no one figure is seen in full. Just like the men and women in the vintage advertisements, their beauty and bliss has been destroyed in modern times. One can only hope he may one-day steamroll the bumps to create an undisturbed picture.
---
Detailed Focus, in Dirty Laundry Magazine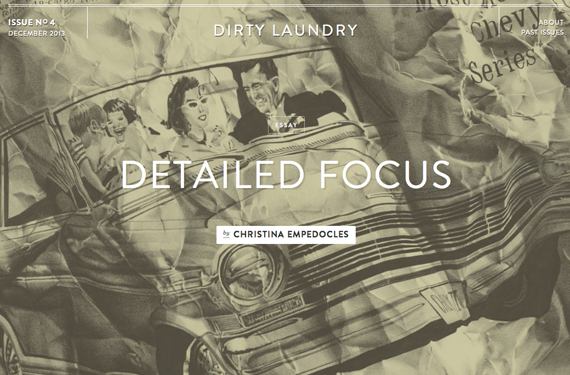 Over the years of making art I've told myself many stories about why I do this. But at this point in my life I find there's one small story I wander back to more than any of the others...
---
SF Art Enthusiast Review of Two Pencils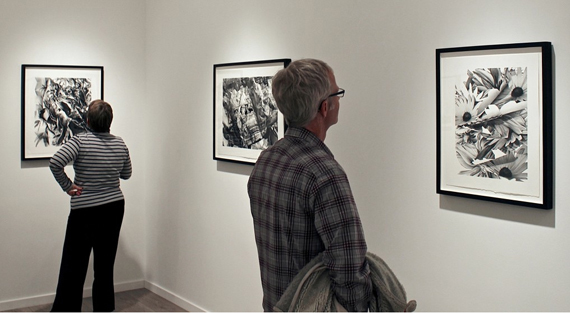 Jack Fischer Gallery's current two-person show, culminating its exhibition programming for the year, "Two Pencils," brings together two local artists, Kevin Chen and Christina Empedocles, who engage with exacting work of pencil and paper, and reveal multifarious approaches and prospect new methods and practices towards the foundational artistic medium and material.
Many of Christina Empedocles' incredibly detailed images on wax pencil on paper, which are at once painstakingly detailed, done with great care and also appear crumpled and discarded, explore the convoluted relationship of paper and pencil. "Through a practice of realism I am trying to monumentalize or archive an event, or memory, or create a relationship to something or someone I've never encountered," she says in a recent interview with In The Make. At Jack Fischer Gallery, Empedocles presents works from two series: one is an ongoing documentation of natural biology, and the other borrows imagery from 1950s advertisements and comic strips– their crumpled quality seemingly highlights the cultural distances of past and present. "Together," Empedocles says of these two seemingly disparate series, "they are at best a fragmented record: evidence of dates, locations, events and pseudo science, forming a portrait of an individual absorbing the world through popular culture."

---
Two Pencils Opens at the Jack Fischer Gallery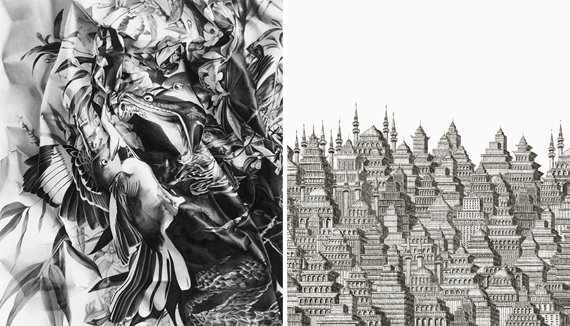 My work will be on view along side Kevin B. Chen, in an exhibition titled Two Pencils. It opens on November 23rd at Jack Fischer's new gallery location on Potrero Avenue at 16th Street in San Francisco. I couldn't be more thrilled to have my work shown with the incredible drawings of Kevin B. Chen, whose mind-bendingly detailed cityscapes will leave you hypnotized. If you are in town between November 23rd and December 31st I hope you will take a look!
Two Pencils
November 23 - December 31, 2013
Opening Reception: November 23, 4-7 pm
Jack Fischer Gallery311 Potrero Avenue
San Francisco, CA 94103
(415) 522-1178 www.jackfischergallery.com
---
Twitter Acquisition!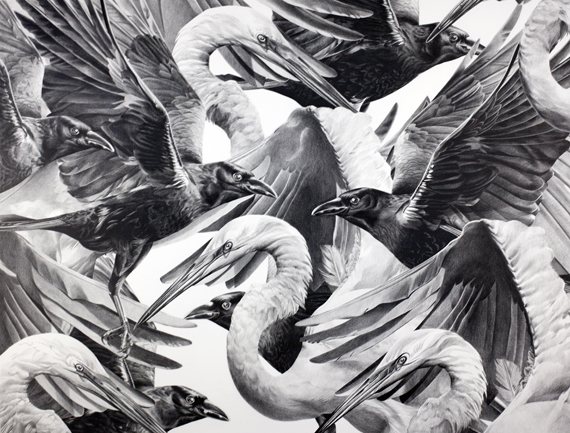 The Twitter Corporate Collection just purchased Cranes and Crows from the David B. Smith Gallery
---
Common Objects Opens June 8th at SCAPE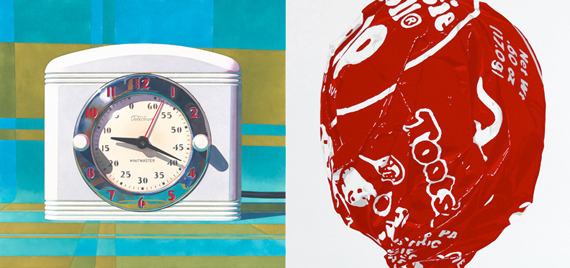 SCAPE is pleased to announce "Common Objects", an exhibition of new works by artists Christina Empedocles, Dave Lefner, and Robert Townsend. Originally conceived as an homage to the 1962 show, "New Paintings of Common Objects", this show will feature images of all things common, banal, maybe even humorous… household products, food items, advertising and comic books.
Now just past its 50th anniversary, the landmark show "New Paintings of Common Objects" was hosted at the Pasadena Art Museum, now the Norton Simon Museum, and was the first museum survey exhibition of Pop Art in America, featuring the likes of Ed Ruscha, Wayne Thiebaud, Roy Lichtenstein and Andy Warhol. The influence this show and these artists had upon the art world, as well as the world at large, is undeniable. Pop Art posed the question of "What is Art?" like never before. Everyday objects isolated on a gallery wall suddenly proved to have a power all their own. The intentional fun, tongue-in-cheek irreverence of subject matter, context, and even execution was the point.
It is in this spirit that SCAPE is showcasing these three contemporary artists, who pay tribute to their art heroes in their own individual style with their own takes and twists on the subject of everyday objects. But, unlike most of their heroes, Empedocles, Lefner and Townsend, above all, hold a sincere respect for the technical execution of their chosen mediums.
Empedocles' intricate, hyper-realistic wax pencil drawings of pages torn from magazines of 1962, show the slickness, style, and humor of advertisements and iconic images of everyday life of the "Joneses"…
Lefner uses the graphic medium of linocuts to capture the hard edges of consumer products: logos, wrappers, etc., originally printed through mass-commercial processes and now brought home to the world of fine art through his labor-intensive, hand-carved, very limited-edition linoleum block prints.
Townsend's detailed, photo-realistic watercolors use an enlarged scale of everyday objects from the 1950s, a golden age to many, giving a historical reference to the beauty of design, as well as the attention to detail through the packaging of even the most simple household items.